28th Nov. VENDÉE GLOBE  – video messages from the Hungarian skipper
Onboard video message from Nandor Fa – Spirit of Hungary from the Southern Atlantic ocean 
28th Nov. SOH 77 skipper's video message

---
A little summary of the Atlantic Ocean
(©NandorFa/ SOH, edited by mixpress_LiliFa, SOH aerial video filmed by Erwan Riquier before the VG start)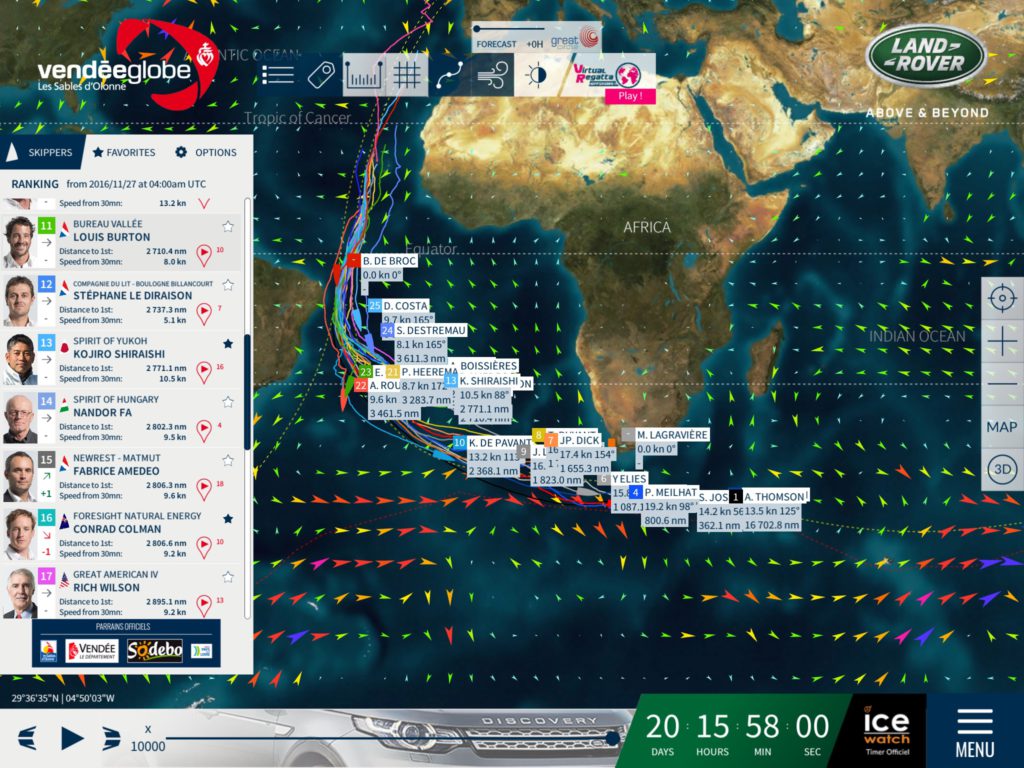 26th Nov. positions in the evening – Nandor 14th, Alex at the front again.
NEW YORK TIMES –  Vendée Globe – ELSA BUTLER and CHRIS MUSELER Nov. 25, 2016 | 2:09
Racers Depart for the Open Ocean
Sailors in the Vendée Globe race left Les Sables d'Olonne, France, to the cheers of fans. It's one of the most difficult ocean races, with skippers helming their boats solo for three to four months as they sail around the world.
http://www.nytimes.com/video/sports/sailing/100000004783334/racers-depart-for-the-open-ocean.html
—- —-
Nov. 25. Vendée Globe Nándor's audio recorded in 2 languages. zsailing on 15th

Today's official audio with Nándor Fa talking in good mood from the South-Atlantic is available here.  http://www.vendeeglobe.org/en/audios

—- —-
24th Nov. Vendée Globe – SpiritofHUN77 is on the 16th place this morning!
Onboard video message from Nandor Fa
—- —–
24th nov. news by the OSM –  sailor Morgan Lagravière reported damage to IMOCA60 Safran's starboard rudder earlier today, most likely due to collision with a UFO. Safran Sailing Team was sailing at 18-19knts at the time, the boat was knocked down and the rudder kicked up – 2/3rds of it are broken.Good news is Morgan is fine! Very bad news is Safran is forced to retire from the Vendée Globe…Morgan Lagravière was holding an amazing 4th position, 475nm behind leader Alex Thomson Racing and was approaching Cape of Good Hope. He is now headed to Cape Town, SA
22th Nov. Publishing by the Vendée Globe official site from Nandor Fa – shocking to hear any news about abandon – sorry for Riou and Bertrand!
23th November. Very sorry for the skippers who had to give up  – because of any damages. It was a long-long hard work for all of the skippers, for boats, teams beeing able to be on the start line of the Vendée Globe. This is the dream of all the sailors, who like to sail alone. The Vendée Globe is the top of the top for a solosailor! Sorry for Vincent Riou, Bertrand de Broc and Tanguy de Lamotte!
16_82040 © Thierry Martinez / Sea&Co. LES SABLES D'OLONNE – FRANCE . 6 November 2016. Start of 8th Vendée Globe ( solo sailing race round the world non-stop without assistance). 29 Skippers on starting line. Nandor FA, skipper of "SPIRIT OF HUNGUARY"
16_82065 © Thierry Martinez / Sea&Co. LES SABLES D'OLONNE – FRANCE . 6 November 2016. Start of 8th Vendée Globe ( solo sailing race round the world non-stop without assistance). 29 Skippers on starting line. Nandor FA, skipper of "SPIRIT OF HUNGUARY"
16_80638 © Thierry Martinez / Sea&Co. LES SABLES D'OLONNE – FRANCE . 6 November 2016. Start of 8th Vendée Globe ( solo sailing race round the world non-stop without assistance). 29 Skippers on starting line. Nandor FA, skipper of "SPIRIT OF HUNGUARY"
---
22th Nov. Publishing by the Vendée Globe official site from Nandor Fa Spirit of Hungary 
"I've got a fantastic tradewind sky, sunshine and very light wind. It's hot but I have continuous movement. It's really nice weather – not as hot as at the Equator but still hot. At the moment I've got an ENE about 9 knots with full main and code 0 up, and we're doing about 8 or 9 knots of boatspeed. It's getting very complicated – there's a huge high pressure system in front of us and it's very difficult to decide which way to go. On the other hand it's quite simple because there's no way to go south. We must go south east as long as we have wind. My models say light wind will come tomorrow and maybe we can make some more progress. At last we will have some more stable wind. I'm basically happy with the boat and the weather. As long as I'm moving I'm happy, and I'm enjoying the sailing."
article link: http://www.vendeeglobe.org/en/news/16391/slow-down
18th Nov.22:27:05 UTC NÁNDOR FA skipper of the Spirit of Hungary CROSSED THE EQUATOR – the 9th in his sailing carrier 
SAILING TOWARDS IN THE SOUTHERN HEMPSHIRE. Have a safty race with your Hungarian Spirit ! ??? 
official VG website: vendeeglobe.org  with news, tracking, photos, videos, daily live VG web tv 
We are very sorry for Bertand de Broc, having a significant technical problem, he had to decide to retire from the race. Have a safe trip to the land!
We wish a safe sailing, good wind for all the VG competitors and the retired sailors as well!
Nandor Fa, the hungarian four times round the Word sailor has crossed the Equator – ninth times for him – shortly before midnight on the 18th of November. The South Hemisphere means, the toughest part of the Vendée Globe is coming up next for the racing boats and their skipper.
Out of the 29 boats having crossed the startline of the 8th Vendée Globe there are still 28 in the race, led by the fastest Imoca 60 boat, Hugo Boss of Alex Thomson (GB). His boat speeds away rather like a trimaran. Besides him the frontrunners and those in the middle of the fleet dominated by the french skippers. During last night Nandor Fa has crossed the Equator on the 19th place, shortly after the "samurai" on board Spirit of Yukoh.
Getting close to the Equator there is the nightmare of all sailors, a phenomena, named the Doldrums. This is a rather "no wind zone" where one can get stucked easily for hours. After that there is an other high pressure system in the South Atlantic. As mentioned by Nandor previously, in those, unpredictable windless zones the boats, their several hundred quadratmeter sails can get damaged very easily.
To go around the St. Helena high is one of the most difficult task for the skipper. Their goal is to get closer to the coast of South America and then trying to dive south into the Southern Ocean where the winds are a lot more stabile and reliable. Before that, they have to round the Cape of Good Hope, the southern point of Africa.
In the Southern Ocean the boats have to avoid the so called ice exclusion zone around Antarctica where they are not allowed to sail becouse of the danger of collision with icebergs or growlers. These growlers floating on the surface of the water can be as big as a full house. So, it is everyones interest to stay in a northerly cours, besides that there is also a penalty for not keeping the regulations…This is a very complicated part of the race track with low pressure systems going around Antarctica, with huge waves and strong winds. It is also very cold, everything becomes wet, so this is extremly phisical to spend almost two month in this enviroment for the skipper. They have to take care of the boat constantly, make the nessesary repairs and they have to watch out for yourself as well, becouse it is vital to stay healthy.
…and in the spare time Nandor writes his dairy, takes photos, sends video files and is ready for the official Vendée Globe, live interwies. Between taking a reef out and a sail change he has to find time to make a coup of tee or cook something, not forgetting to write the obligatory, daily report for the race headquoters, otherwise there is a penalty for that as well.
So, it is very tough what is waiting for the fleet, we wish all the best for Nandor Fa and Spirit of Hungary! Fair winds for the entire fleet of the vendée Globe!
( SpiritHun article translated by T. Mérei)
NÁNDOR's Vendée'Log 17th Nov. 22:30 UTC – "20 SM until the Equator, everything's all right"
After having been thinking about it for quite a while, I decided to take down the C1. Even though it's gotten dark, I put on the working clothes including the rubber neck and went out. I did need the rubber neck because it was a bumpy and wet ride, and taking down the C1 is a long process. I'm not going to tell the whole story, the gist is that in order to succeed, you need to find the right rhythm. When you ease on the halyard the whole thing starts dancing and in this dancing you have to find the right moment when it's ahead of the A2, so that things don't get mixed up. If you have it wrong, you have to start over. In such situations you can't do things with force, you need to be tricky. This time I succeeded for the second time, I could start pulling it down. From this point there is no risk in it, it's just a lot of work to put it away. I did it, put everything in order and I crawled myself back into the cockpit – it was impossible to walk on legs. I realized I was thirsty for water, which is about 1 metre away from me. I decided to get it. I took me 10 minutes. I was a good match, a kind of training for the future.
There are some clouds in the sky but not rain clouds. Other than this, I can see the stars. I can't sit outside, though, because it's too wet and uncomfortable. I don't want to, it's nice here inside. I ate some energy, now I'm writing, and then I'm off to my beanbag, because I deserve it. Finally I took my sleeping to the next level: I went to my bed and with occasional control wakes, I slept till the morning. In the morning I went out immediately without any breakfast and unreefed the mainsail. We became faster. Sometimes the water is washing the block in the corner of the deck – this is my indicator. At this point our heeling angle is about 30°.
I started the pumps to create some fresh drinking water. I use both of them at the same time, this way it's faster and secondly, left over water always gets fuggy in the tube when I don't use it for a while. It makes the filter green and even the fresh water will smell like marsh. It takes one and a half hours for the 20 litres can to be full. This amount of water, within these hot weather conditions, is enough for about 4 days.
We exchanged a few e-mails with Rich Wilson onboard Great American 4, he's coming shortly behind us. He's keeping himself in great condition, he's the oldest in the fleet with 66 years. His boat is fast and he sails it well. He has a youth educational program, they keep in contact with more hundreds of schools around the world, including one Hungarian school. Rich forwarded a few questions to me, that the kids are asking. This is a great thing, very important.
Position: 18th nov. 20:30 UTC, 00° 20,3′ N, 030° 26,7′ W,  
20 SM until the Equator, everything's all right.
translation by LiliFa